The Foreign Secretary insisted the government was 'committed to lowering taxes' after the Prime Minister and Chancellor doubled down on plans to increase National Insurance.
Liz Truss said 'taxes are never popular' but large sums spent to deal with the Covid crisis 'must be repaid'.
Labor has urged the government to 'rethink' the National Insurance hike, with shadow secretary Lisa Nandy warning 'it is simply not possible for many people to survive' if their burden tax increases.
The Prime Minister has faced pressure from within his own party to drop or at least delay the rise to regain support as he awaits findings from Whitehall and police inquiries into the party allegations anti-lockdown organized in Downing Street.
No 10 had still not received a copy of Sue Gray's long-awaited report on Sunday morning.
Concerns over the Prime Minister's decision to press ahead with the 1.25 percentage point hike, designed to tackle the Covid-induced NHS backlog and reform social care, were also raised by Tory MP Robert Halfon .
Speaking to Sky News' Trevor Phillips On Sunday show, he said the government should "go back to the drawing board" and look at different ways to find the money needed for the health service.
But Paul Johnson, director of the Institute for Fiscal Studies, said delaying or scrapping the National Insurance increase could pose a credibility problem with the public.
He argued that the tax hike was intended to cover the "ever-increasing long-term costs" of the NHS.
Mr Johnson told Times Radio: 'Even if we hadn't had a pandemic and even if the government didn't do anything about social care, they still would have needed an increase in something like that because spending on the NHS is only rising inexorably. from year to year.
"In a way, I think the pandemic gave them an excuse to smuggle in the pretty big tax hike that they should have done anyway."
Boris Johnson and Rishi Sunak have united in a firm pledge to press ahead with the controversial National Insurance hike despite concerns from some Tory MPs over the cost of living crisis.
Writing in the Sunday Times, the couple insisted it was right to follow 'progressive' politics.
Ms Truss told Sky News the government was 'committed to cutting taxes'.
She acknowledged on the BBC's Sunday morning show that "taxes are never popular", but said "significant" sums spent to deal with the pandemic must be repaid.
"As soon as possible, we want to be able to lower our tax rates, we want to drive economic growth, because that's ultimately what will make our country successful," she said.
"But we are facing a short-term problem, which is that we have spent significant sums to deal with the Covid crisis which need to be repaid."
Ms Nandy urged the Government to 'rethink' the National Insurance hike, adding that Labor would 'propose a much fairer tax system'.
She told the BBC: "You can't hit people with more tax at the moment. It is simply impossible for many people to survive.
"The stories I hear from people across the country about the sacrifices they are going to have to make are huge."
Asked if Labor would repeal the planned tax hike, she added: "We hope the government doesn't go ahead.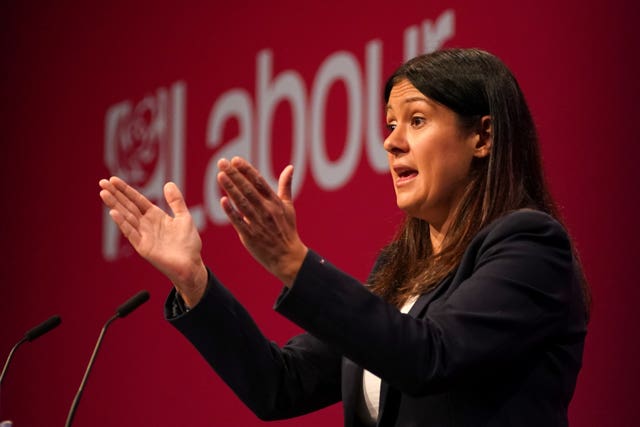 "Well listen – we wouldn't be bringing it in the first place, let me be absolutely clear with you if there was a Labor government today there would be no increase in national insurance, people would not face the prospect of seeing their incomes shrink even further.
She added: "Hopefully that won't happen at all, we're going to do everything we can over the next few weeks to try to appeal to the conscience of Tory MPs and try to persuade the Prime Minister to rethink.
"But if we can't do that, what we will do is come up with a much fairer tax system that doesn't hit workers the hardest.
In April, National Insurance is expected to increase by 1.25 percentage points for workers and employers.
From 2023, it should return to its current rate, with a 1.25% health and social tax applied afterwards to raise funds for the improvement of care services.
As questions loomed over Mr Johnson's future as Prime Minister, Ms Truss stood by the Prime Minister, telling the BBC he was 'absolutely' the best person to lead the Conservative Party in the next general election.
Asked if she is tempted by the top job, she replies: "There is no competition. There is no debate. »
Ms Truss was later asked on Times Radio if she had spoken to anyone about her running for the Tory leadership.
She replied, "No, is that the answer… No, I didn't. And I am 100% focused on my role as Minister of Foreign Affairs.
It comes as tensions remain high between Russia and Ukraine, with Mr Johnson due to hold talks with President Vladimir Putin and visit the troubled region earlier this week.