The Rosen College of Hospitality Management added an additional six hours of shuttle travel between Rosen and UCF's main campus to allow for more flexibility and connectivity between campuses, beginning Monday.
Rosen students had previously expressed displeasure with the lack of departure times in the shuttle schedule, particularly mornings and evenings. Hospitality management major Elizabeth Rutkovsky said it made change a priority for student leaders.
Rutkovsky is president of the Rosen College Leadership Council and has lived in Rosen since the fall of 2019. She said she's been hoping for this change since she started classes at Rosen her freshman year. During his senior year, Rutkovsky was finally able to make it happen.
"I really think to create that diverse perspective and have that full college experience, it's really important to have connectivity between two campuses," Rutkovsky said. "And that was something I was really hoping to work on."
The new departure times from Rosen are:
– 8 a.m. Monday to Friday.
– 9:45 a.m. Monday to Friday.
– 7:15 p.m. Monday to Thursday.
The new departure times from the main campus are:
– 9 a.m. Monday to Friday.
– 6:15 p.m. Monday to Thursday.
– 8:15 p.m. Monday to Thursday.
Rutkovsky first pushed for more commute time in the fall. Speaking with UCF Parking and Transportation Services, Rutkovsky said she was able to explain how they could improve the system and schedule to better serve students.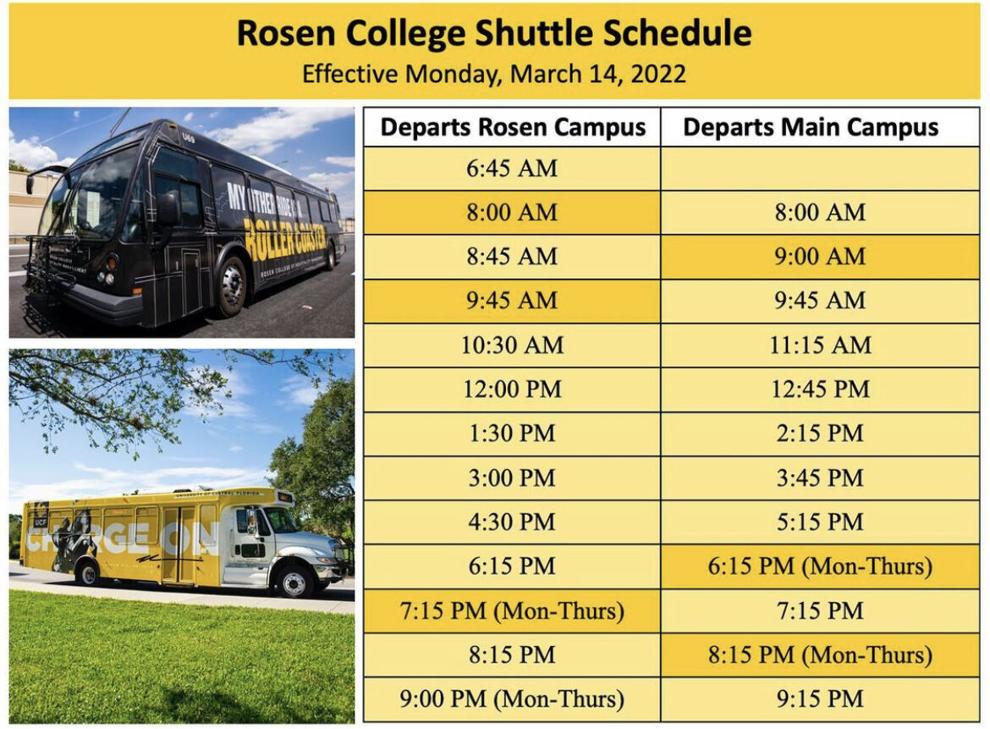 She said they also talked about budgeting. Freight charges are in place and haven't increased for 10 years, so they wanted to make the switch without a price increase.
Rutkovsky said Transportation Services felt comfortable adding an additional six times. She then sent out a survey via the Rosen Housing Group discussions that assessed which hours would be most beneficial for students to add. Rutkovsky said she took this information to Rosen Dean Youcheng Wang and he approved her.
Rutkovsky said Rosen needed to get another shuttle, especially predicting the higher demand expected in the fall. She said it was worth it because it would be helpful for students who use shuttles to avoid driving costs in Orlando and who rely on the shuttle system.
"It's something that I'm really passionate about, of course, to give all students the opportunity to engage properly," Rutkovsky said. "And it's expensive to travel to Orlando. Even college students who have cars really like using the shuttles."
Danielle Bellettiere, double major in senior hotel management and event management, is a member of the RCLC. She said she had been a resident of the Rosen dorms for her entire college career and stressed the importance of adding shuttle schedules.
Bellettiere said the change would make it easier for students to access the full college experience and save money on transportation.
"With activities, events and classes taking place at different times on the main campus, as well as the fact that many Rosen students are encouraged to obtain industry jobs taking place on our campus, this gives people have a lot more flexibility in their schedules," Bellettiere said.
Emma Yeoman, a sophomore hospitality specialist, said that for students who have relied on Rosen shuttles for a long time, the extra times provide a sense of ease when it comes to planning trips between campuses. She said the new shuttle schedules would be a lifesaver.
"A lot of times I had to be really early or late for whatever I was trying to attend," Yeoman said. "For example, last semester I had a class at 9 a.m. My only options were to get up very early to catch the 6:45 a.m. bus or to be late for class and catch the 8:45 a.m. bus"
Rutkovsky said she knows everyone will benefit from this change and has been working hard to implement it on her campus as soon as possible.
"To increase that connectivity so that students can engage academically across both campuses and also get involved and really get the most out of their college experience and grow as professionals," Rutkovsky said. "It makes life work on both campuses."